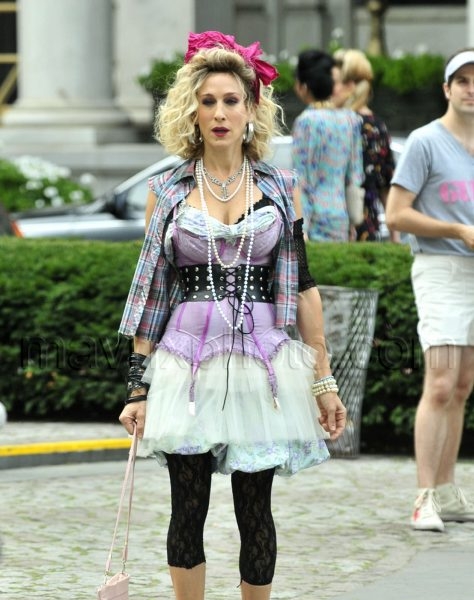 Sarah Jessica Parker Goes Retro
The ladies of Sex and the City 2 must be having flashbacks, because recently they've been seen all dressed up in 80s garb. Yesterday, it was Sarah Jessica Parker's turn. FYI, this is what SJP actually looked like in the 80s. Don't ask me why they made her look like a middle aged woman dressed up as a slutty Madonna for Halloween, because your guess is as good as mine.
And what's with the dark eye makeup? It looks like she has two black holes for eyes. I'm sort of worried she's going to steal my soul if I look at the picture for more than a second or two at a time. Maybe they'll CGI in some sexiness in post production?
I suppose it doesn't really matter, because I'm already getting an overload of hotness from that guy in the background wearing the GUESS shirt and visor. There's nothing to GUESS about it: I'm head over heels in love with that dude. Those white L.A. Gear high tops and short shorts pushed me over the edge. How do you spell hotness?  T-H-A-T   G-U-Y.