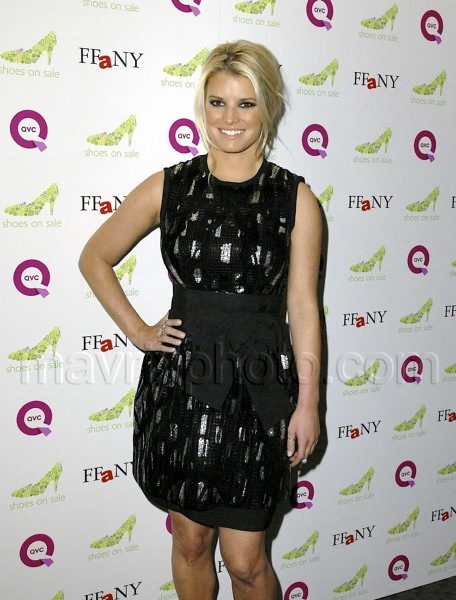 There's Too Much Good Stuff in this Post!
Seriously, I almost can't take it. These are shots of Jessica Simpson at the 16th annual QVC presents FFANY Shoes on Sale charity event at Jazz at Lincoln Center. Proceeds from the event benefited the Breast Cancer Research Foundation. Since there's so much to talk about, I'm doing a numbered list (check out my mad HTML skillz, yo!):
Jessica Simpson. Sister brought THE GLAM with her to this event! Has anyone seen her look this good recently? Because I haven't since, oh, 2004 or so. Wonder if she's gearing up for a big comeback?
QVC!!!!! Little known fact: I can sit on my couch and watch QVC for hours, and I'm not even kidding. Have you seen those Quacker Factory sweaters (try not to have an eye orgasm looking at those sweaters, I dare you!), and the broad that pitches that line? She's the one who wears the Bedazzled Rambo headband on the show each time she goes on, and she's ELEGANCE PERSONIFIED (sorry, Shauna Sand, but you know it's true). It's like watching an improv show, except the cast members have no idea how hilarious they are. The best part about QVC? There's no commercials and it's on 24/7! You can flip to that channel at 4am on Christmas morning and still be able to shop. That's dedication. HSN who?! QVC for life! RIDE OR DIE!
Breast Cancer Research Foundation. Overall, I'm a big fan of boobs. Specifically, I'm a big fan of my boobs. I'd hate to see anything happen to them, so this is a cause that is near and dear to my heart (both literally and figuratively speaking). Do you love boobs, too? Then dig out your wallet and click here to donate!
In honor of QVC, and of boobs everywhere, it's only fitting that I link to the best QVC on-air call ever! He loves watching porn on his QVC Dell!